In this newsletter:
---
Welcoming our new CEO,
Simon Blake OBE
We are delighted to announce that Mental Health First Aid England's new CEO Simon Blake OBE joined us on 3rd October. Simon was previously Chief Executive of the National Union of Students Group (NUS), a post he held for the past three years. In that time he led on a number of key areas, including publishing their six year strategic framework, establishing group-wide KPIs focused on membership satisfaction and overhauling the NUS Extra Student discount proposition.
You can read more about Simon here. Simon also has his own CEO blog on our website, where he has posted an update about his first day in the office.
---
Campaigns
#HandsUp4HealthyMinds this World Mental Health Day

World Mental Health Day is on 10th October 2018 and this year's focus is on young people and mental health in a changing world. Mental ill health often starts in young adulthood, and it's vital that we give young people access to the support they need to grow up happy, healthy and resilient.
In support of World Mental Health Day, we are launching a new set of resources for young people's wellbeing: the #HandsUp4HealthyMinds toolkit. The toolkit is filled with practical tips, links and downloadable content for parents, schools, colleges, universities, youth organisations and practitioners, as well as some self-care tips for young people themselves.
We have put together everything you need to get involved in WMHD, including some sample social media posts for you or your organisation to support the campaign.
Where's Your Head At?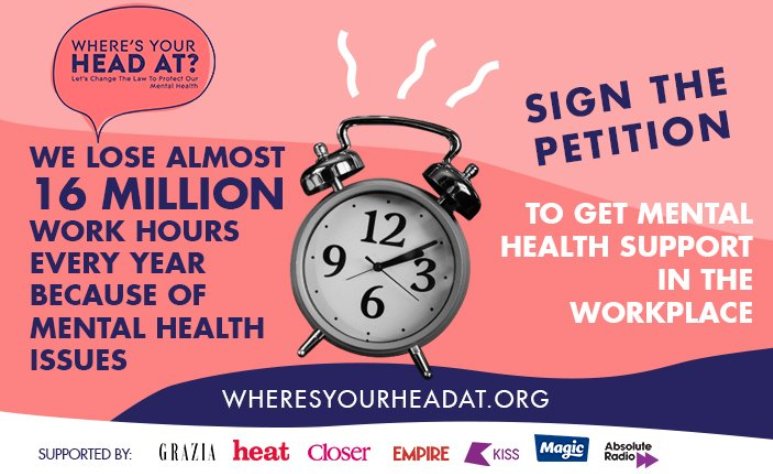 You may recently have seen Where's Your Head At? - a six week campaign to change health and safety law so it protects mental health in the same way as physical health. We are delighted to share that the petition has almost reached 200,000 signatures! It's not too late to make your mark - to read more and sign the petition please visit wheresyourheadat.org.
On 8th October, MHFA England will be taking part in a Parliamentary event to celebrate the campaign's progress and mark the petition's presentation to government.
We have been circulating an Open Letter to employers, asking them to sign and back our call to government to change the law around First Aid. If you are working in an organisation who might be receptive to signing, please contact media@mhfaengland.org and let us know who to send the letter to.

Mental Health at Work Gateway

In our last newsletter we shared the new Mental Health at Work Gateway, launched last month by the Duke of Cambridge and Heads Together.
The gateway provides a host of resources for workplaces looking to support their staff's mental health and wellbeing. MHFA products are a key component and the Address Your Stress Toolkit is currently in the top five rated resources of over 130! You can read more on our website here, including a blog from Jaan Madan, our workplace lead.

Mental Health in Focus

St John Ambulance, the nation's leading first aid charity, is urging employers to embed MHFA England training as part of an employee wellbeing policy. Their campaign Mental Health in Focus launches on World Mental Health Day on 10th October.
Look out for St John Ambulance posts on Facebook, Twitter and Instagram over the coming days or search for #MentalHealthInFocus. From 10th October, you can visit sja.org.uk/MentalHealthInFocus where you'll find some eye-opening statistics from their research and access to free downloads.
---
Events
Global Health Summit
Thank you to the global MHFA community for supporting an international social media campaign launched by the UK government, ahead of a Global Ministerial Mental Health Summit hosted on 9th & 10th October.

MHFA England and our community joined in using the #theworldneeds hashtag to build momentum ahead of the event, which our new CEO will be involved in, along with other members of the MHFA England Board.
50% discount on Mad World conference tickets
We are pleased to be able to offer all friends of MHFA England a discount of 50% on tickets to Mad World conference on 9th October. Mad World is a conference and exhibition with aims to banish the stigma around mental health at work. Just use the discount code SB50 when you book.


Embedding Mental Health Best Practices in the Workplace

In addition to their Mental Health in Focus campaign, St John Ambulance is hosting an event on 6th-7th December in London. Embedding Mental Health Best Practices in the Workplace Summit 2018 is a case study and solutions-based event that will give employers key insights and ideas from industry experts on how to implement a resilient and practical approach to mental health and stress in the workplace. You can find out more and book places at sja.org.uk/mentalhealthsummit2018.
---
Research
Participants needed to help MHFA Australia update the guidelines for psychosis


Mental Health First Aid Australia and the University of Melbourne are undertaking a Delphi study to update the MHFA Guidelines for Psychosis that were published in 2008.
MHFA Australia are currently inviting people who have expertise in the field of psychosis to participate in this research. This includes people with a lived experience of psychosis, people who have cared for or provided significant support to someone with psychosis, and professionals with research, education or clinical experience related to psychosis.
For more information please see this flyer. If you have any queries, please contact Fairlie Cottrill, Research Officer at Mental Health First Aid Australia, on fairliec@mhfa.com.au or +61 3 9079 0207.
RAND study reveals MHFA training as one of the best-evidenced workplace intervention programmes
A review published by RAND Europe has revealed some of the top workplace wellbeing programmes available to employers. The national study, commissioned by Public Health England, identified 117 health and wellbeing programmes with the aim of supporting an understanding of the landscape of workplace wellbeing interventions.
Researchers reviewed the evidence base for each programme and graded them according to the Nesta Standards of Evidence, which help determine confidence that an intervention is having a positive impact. Programmes including Sleepio, Mental Health First Aid and Be Mindful were among the five workplace wellbeing programmes identified as meeting the highest standards of evidence. Read more here.
---
Young artists wanted to share their mental health journey

Do you know a young artist who would be willing to share their work to be featured in MHFA courses? We are looking for art by young people with lived experience of mental health issues. Learn more here.
---
Reception phone line
We have recently been made aware that our phone system will continuously ring if the phone line is engaged on another call before reaching voicemail. It may seem that we are ignoring the phone but we're not, we're just on another call.
Our reception line is open 9am to 5pm, Monday to Friday. If there is no answer, please leave a voicemail and we will get back to you as soon as we can. Alternatively, you can email info@mhfaengland.org
We are reviewing our telephone system and looking at ways it can be improved to ensure our customers are receiving the best service possible.
---
Oz Osborne:
A life-changing man
Written by Jessica Agudelo
It is with great sadness that we announce Oz Osborne's passing after a brief illness on the 18th August 2018.
Oz was an MHFA instructor who worked with people and organisations on community projects inspiring people to get together and break down social barriers. Oz's work took place in Norfolk predominantly, however, its impact was felt nationally with his projects the 12th Man, So Me and the Human Library initiatives hosted by The Outsiders, a community interest company Oz co-founded with Nick Little and Maggie Wheeler.
I met Oz a number of times in the past 18 months through our regional instructor events and at the 10th Anniversary event where Oz was awarded the innovation award for the 12th Man initiative. I was inspired by his work and passion for raising awareness of mental health and his commitment to upskill people of all walks of life on Mental Health First Aid skills, more specifically barbers in the most obscure locations and places. A great testament of his leadership and resourcefulness.
I attended an event on 17th September at the Forum in Norwich to celebrate the life of Oz and was moved by the presence of so many organisations such as Time to Change, Mind and Five Ways to Wellbeing – all there with something to say about Oz's work and their fond memories of him. I came away inspired by a man whose work was about connecting and sharing community resources through life-changing initiatives for the people and communities he supported.
As I watched a film where Oz was being interviewed about one of his projects, he was asked, 'In one word, how would you describe this initiative?' Oz's response was: 'Life-changing'. Perhaps 'life-changing' is what Oz was to many people. I learnt a great deal from the people I spoke to at the event, who were determined to continue Oz's legacy for a long time to come.
Find more about the projects Oz worked on and supported at the-outsiders.org.uk.